When I turned age 50 I had the pleasure to be interviewed by travel writer Bill Dalton, who wrote the first ever travel guide about Indonesia! This is his article about Amed, East-Bali and life and career of Mary Afdan.
Bill Dalton about Mary Afdan in the Bali Advertiser
Mary was born, of a Javanese mother and Moluccan father, in the small country village of Hardenberg in the east of Holland in 1962. Her father had been a member of the Dutch Colonial Army (KNIL) and after Indonesia's independence former KNIL soldiers and their families were forced out of Java when it fell under the control of Indonesia. In 1951, a total of 12,500 were transferred to the Netherlands where they were housed in provisional camps socially and physically isolated from Dutch society.
Both the Indonesians and the Dutch government believed that the exiles would return in a couple of months, but it wasn't until the end of the 1960s, while Mary was still a little girl, that the family emigrated to Java, moving eventually to the Kei Islands. Life was tough; at times Mary wore torn clothes and the family didn't have enough to eat. One of her new songs is about a young girl in Saparua who keeps herself alive by singing for a living. This experience was torn from the pages of Mary's own life.
Mary's musical life began at an early age.
The family finally settled in Sorong in Papua in 1972. Mary's musical life began at an early age when her father taught her to sing and play guitar in the church and in school choirs, winning several singing competitions. When her father passed away in 1983, Mary supported herself by making mosquito nets and giving guitar lessons to young children while she studied economics at university.
Mary arrived in Jakarta in 1989 where she performed with The Crown band in the nightclubs of Jakarta and Bandung. In 1991, the internationally acclaimed Jakarta live music venue Jaya Pub invited her to sing. When the Jaya Pub opened a branch in Kuta in 1992, Mary moved to Bali and on her own and in duet with other singers became the voice of Jaya Pub Bali during the Golden Years from 1992 to 1996 when south Bali enjoyed a vibrant nightlife. On saturday nights you could hardly walk through the crowds of tourists, expats and locals.
At the end of 1995 Mary returned to Amsterdam where she continued to sing professionally at private parties and pasar malams. It was at this point that Mary started to compose her own Indonesian and English material, a tropical mix of Moluccan and Papua elements with a little dash of Dutch.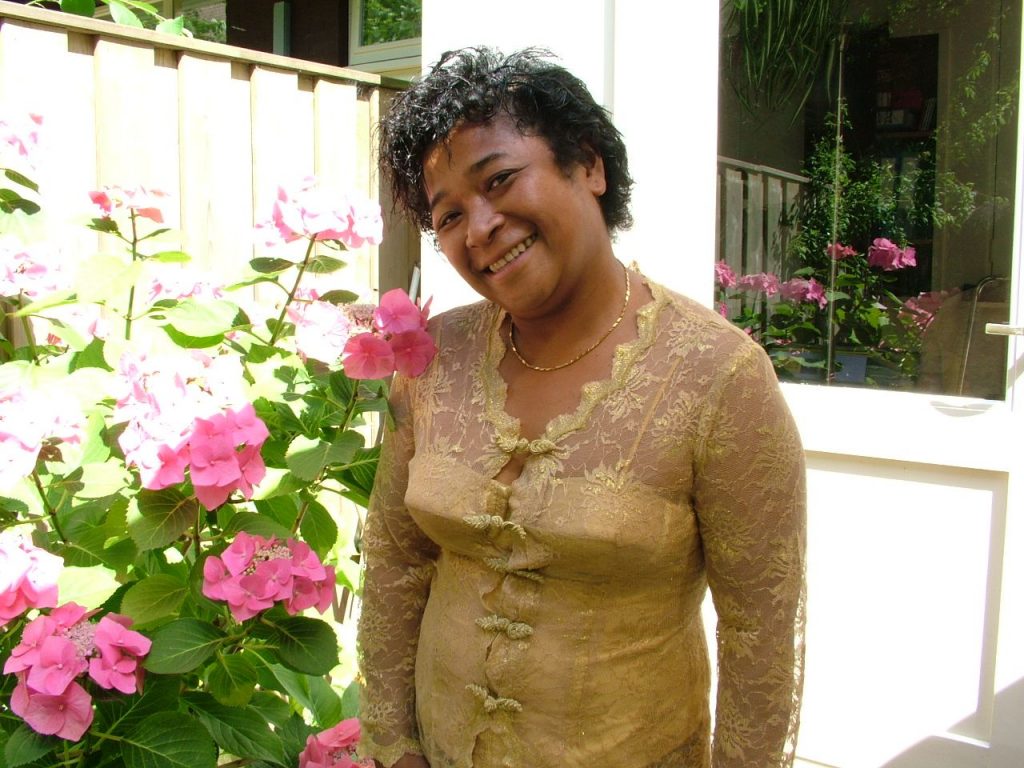 Wanting to have a place of her own in her homeland, Mary built Villa Sinar Cinta in 2006 and opened it for guests in 2007. Located on its own stretch of beach, the family who formerly owned the land on which the villa sits is now involved in the it's operation, maintenance, security and guest services. Guests can now wake at sunrise to accompany Putu to market for the day's shopping, join Wayan in the kitchen to see how a Balinese meal is prepared from scratch, or hire Kadek to drive them to the exquisite Pasir Putih white sand beach, a 45-minute drive via Amlapura.
Painted Jukung, Tasty Sea Salt, Unspoiled Coral
Though tourism didn't reach the Amed area until the mid-1990s, by early 2012 every house seems to double as a cubby hole restaurant or homestay, creating an oversupply of some of the best accommodation deals on the island (Rp50,000 per night or Rp100,000 facing the sea). Family ties are still strong here and tradition prevails in everyday life. It's not that uncommon that a hotel staff member will invite you home for a wedding, a cremation, a tooth filing ceremony or a sibling or cousin's six-month-old-touching-of-the-ground ceremony.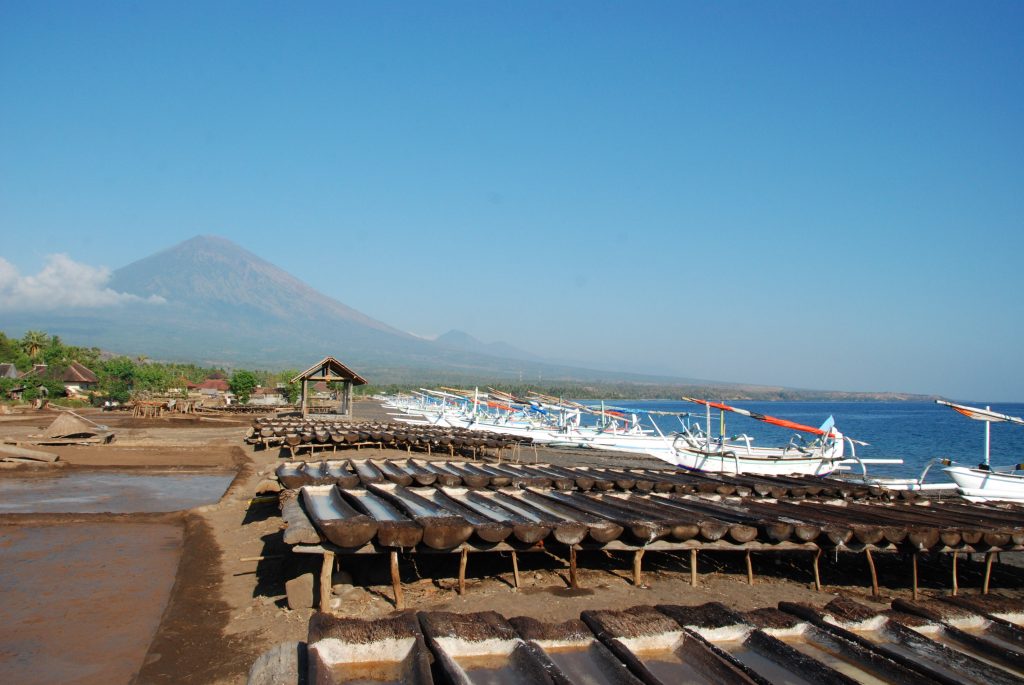 The people along this coast make a meagre living out of dry crops like peanuts, cassava, sweet potato, beans and corn. Twenty years ago, the whole beach was lined with salt-making businesses. Salt making is still a significant source of income for the locals, but these family enterprises are now being eclipsed by the frenzied establishment of tourist-related businesses. The one industry that hasn't changed is fishing. All the village's boats have set out to sea by 5 am to fish for tuna and mackerel. For the best photograph over one of Amed's jukung-lined beaches, climb the hill up to the Anda Amed Resort.
Amed's slightly greyish unprocessed salt crystals, only Rp20,000 per kilo at almost any roadside warung, are sweeter and more flavorful than most Indonesian sea salt, don't leave a bitter taste, and make a great gift for people who love to cook. Salt panning takes place in the dry season. While still dark, workers head to the beach carrying a pole with two hanging zinc containers that look like sagging accordions. The women fill the containers with sea foam, froth and sea water, carry up to 50 kg of water on the back of their necks, then climb the wobbly ladder of the square, roofless, two-meter high stack of coconut trunks to the cone at the top, then pour the water in. Workers carry up to 500 liters of water per day. The salt museum at Hotel Uyah (see the Cafe Garam sign), the "Salt Hotel" in the center of Amed, displays photos, samples and equipment showing how traditional salt making is done.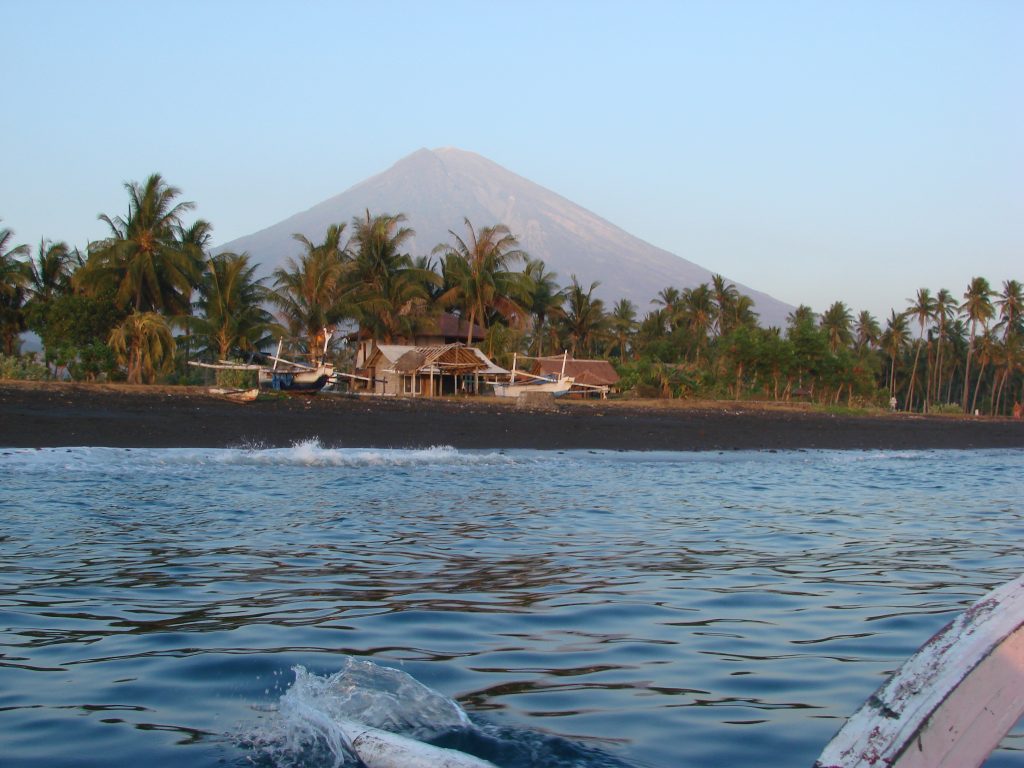 With the Bali Sea at your feet, there are any number of watery pursuits like going out with fishermen in the early mornings, getting a lift out to the reef on a jukung to spot dolphins, or just laying on the beach. Fifteen minutes drive to the south in Lipah is a small Japanese ship sunk in World War II; one half of the ship is still intact. The nice sandy black beach offers safe swimming for children and easy access to snorkeling.
Further afield, walk to Amed village along the beach or through cassava gardens, hike in the nearby hills, rent a pushbike in the cooler hours of the morning or late afternoon, explore the coast on rented scooters, arrange a road trip to visit Bali's premier dive center in Tulamben to the northwest or have lunch at the Tirtagangga Water Gardens or the Ujung Water Palace near Amlapura.
Amed is also an active trekking and eco tourism area. Aficionados claim that the sweet salak grown around Sibetan, 45 minutes away – Bali's most prolific salak producing area – is incomparable. Known as the snakefruit because of its reddish-brown scaly skin, this variety of salak is called salak gula pasir. Pura Lempuyang temple sits gleaming white on the slopes of Gunung Lempuyang; access from Abang, north of Tirtagangga, by climbing the 1700 steps to the top.
Practicalities
Sinar Cinta Villa, Jl. Melasti 7, Amed, www.sinarcinta.com, info@sinarcinta.com, tel. 081-747-37869. Three double rooms with double beds, plus a bunk bed. Weekly rates (including breakfast): E700-E850 in the low season; E850-E1000 in the high season. Payment via bank transfer. The villa is ideal for parents with 2-3 children, a party of adults or two couples who rent the whole premises for average stays of from 1-3 weeks. Busiest in May and December (school vacations) and July-August (vacation time in Europe). Amed is 22 km (one half hour) north of Amlapura; Singaraja and Denpasar are both two and a half hours distant. Catch an angkot six km to Culik, then board another one for Amlapura. If coming from Culik, the road (Jl. Melasti) to Sinar Cinta is one and a half km before Amed on the left-hand side.
Copyright © 2012 Bill Dalton
https://www.baliadvertiser.biz/amed/
All pictures on this page are made by us or by our guests. You can read more about the construction of the villa on my blog or visit the website of Villa Sinar Cinta for more information www.villasinarcinta.com Or contact Mary Afdan directly.